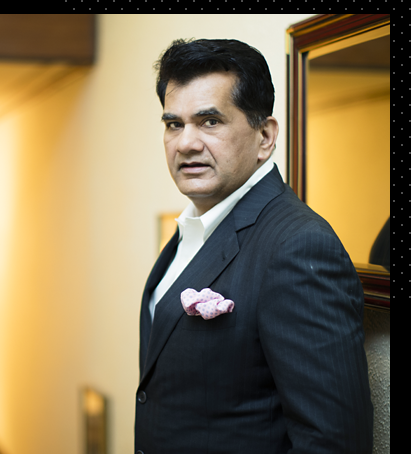 Curriculum Vitae

Amitabh Kant

CEO, NITI Aayog (National Institution for Transforming India),
Government of India

Mr Amitabh Kant is presently CEO, NITI Aayog (National Institution for Transforming India). NITI is a Government of India institution for catalysing the development process, nurturing an overall enabling environment by working in partnership with States, by being a Knowledge hub and a Think Tank by facilitating implementation. Its aim is to foster involvement and participation of State Governments in policy making and enhance cooperative federalism.
Amitabh Kant is a member of the Indian Administrative Service, IAS (Kerala Cadre: 1980 Batch). He is the author of "Branding India – An Incredible Story" and has been a key driver of "Make in India", Startup India, "Incredible India" and "God's Own Country" initiatives which positioned and branded India and Kerala State as leading manufacturing tourism destinations. These campaigns have won several international awards and embraced a host of activities – infrastructure development, product enhancement, private-public partnership and positioning and branding. He was responsible for developing Kerala as India's leading tourism destination. Kant also conceptualized and executive the "AtithiDevoBhavah" – "Guest is God" campaign to train Taxi Drivers, Guides, immigration officials and make them stake holders in the tourism development process. Amitabh Kant was also the National Project Director of the Rural Tourism Project of UNDP which made a paradigm shift in spreading tourism to Indian villages which had core-competency in handicrafts, handloom and culture.